"The Thomas Farm Films camp was an incredible experience for our boys! They both attended an arts school for elementary and had the opportunity to participate in theater productions every year, and are both talented actors. As they are growing up, they are less interested in theater due to the "coolness" perception of pre-teens. This film camp was the perfect bridge to help continue their acting careers. They had a blast and were exposed to all aspects of professional film production, including original scripts, make-up, costuming, location scouting, shooting, editing and a wonderful showing of their movie on a big screen. There was even a "red carpet" event on the showing night. It was a blast and we plan on sending the boys again! Thank you Thomas Farm Films!"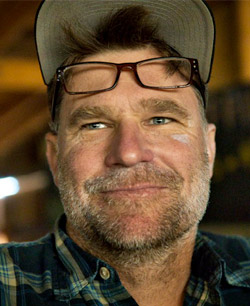 Joshua M. Thomas
Founder & Creative Director
Joshua Thomas is co-founder and creative engine of Thomas Farm Films. Joshua is currently a Master of Fine Arts candidate in cinema at San Francisco State University where he is finishing up his third and final year. Joshua has extensive experience in documentary, but his passion is narrative filmmaking. His work has screened at numerous film festivals across the United States. He is also a prolific screenwriter that has completed a vast amount of scripts, both short and feature length.
Joshua's teaching philosophy is that of mentorship and engagement. He has found, both as a teacher and student, that this strategy works far better than dictating knowledge down from a mountain top. He strives to find the interests of all students and involve them in the most collaborative art form, filmmaking.
Joshua is also co-owner of Thomas Family Farm, the organic cut flower farm that serves as the location of all the summer camps. He and his wife Kari took over the farm in 2006 from Josh's parents, Jean and Jerry Thomas, who started the farm way back in 1971. As Joshua is both the farmer and filmmaker, he is able to find the perfect locations on the farm for all the children's films.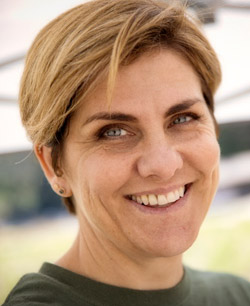 Kari Lee Thomas
Founder & Executive Director
My name is Kari Lee Thomas and I am excited to be the a co-founder and Executive Director of Thomas Farm Films. I am also the co-owner and CFO of Thomas Family Farm, Inc., an Organic flower farm that I run alongside my husband. I've enjoyed raising our four children on the farm but I've always felt that there is something else for me to accomplish. Something bigger.
As a young women, in my most honest moments, I knew I wanted a career in either music, filmmaking,…or a nonprofit. Music and movies were my first loves. Lifting me up, even as a small child. The nonprofit part came to me as an epiphany when I was shopping in Safeway at age 16 and came upon Newman's Own cookies. The label struck me. It stated "all profits donated to charity". This idea made complete sense to me. A business that takes care of its employees and does good for others. "That's what I want to do!" I have taken a long and scenic route to the creation of TF Films, but I couldn't be more happy to be here.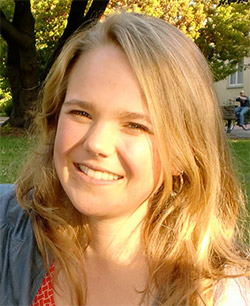 Asali Echols
Board President & Film Instructor
Asali Echols is a Bay Area filmmaker and film editor. She's edited award-winning feature documentaries, music videos, and educational content, and directed short narrative, documentary, and experimental films. She has taught summer filmmaking workshops to various ages and skill levels.
In addition to filmmaking, Asali has worked in the world of live theatre as a producer, actress, and stage manager. She holds a BA in Film Studies from UC Berkeley, and is currently completing an MFA in Cinema at San Francisco State University.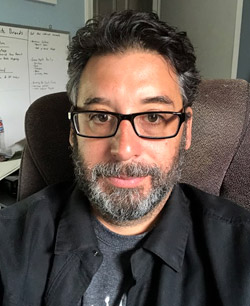 Kevin Painchaud
Board Vice President
Kevin Painchaud is an Emmy nominated director/ producer. Kevin has spent 17 years directing, producing, shooting and editing for TV, feature films, short films, corporate and consumer videos. 10 of these 17 years have been spent working in Los Angeles. While in LA, Kevin had the opportunity to work with some well know people in the entertainment industry. Kevin has been able to share his knowledge and passion for moviemaking with kids. In the mid 90's Kevin worked with his best friend's family to help them start their own technology camp, iD Tech Camps. Kevin wrote the DV curriculum and help secure strategic partnerships that enable the company to get off the ground. Currently, iD tech camps is valued at over $100 million dollars and is the largest technology camp for kids in the world. Kevin spent 10 years teaching at iD Tech Camps during the summer months. 6 of these years, Kevin had toe opportunity to teach documentary filmmaking to American kids staying in Cadiz Spain. Kevin has also been a director of several film festivals. Kevin worked with iD Tech Camps to put on their first kids film fest. Years later he directed his own short film fest in Hollywood. A year after this, he joined with Dawn Wells (actress who played Maryanne in Giligan's Island) in co-directing the Spud Fest. A film festival located in Driggs Idaho. Today Kevin still works on an occasional production, but spends most of his time as a photographer for the local newspaper, Growing Up In Santa Cruz.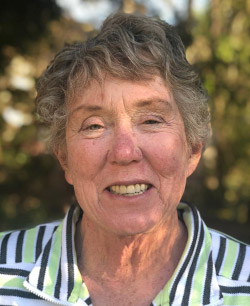 Edith Parker Frick
Board Treasurer
As Managing Member of a family-owned LLC for the past 33 years, I've had principal responsibility for the operational, strategic planning, and financial aspects of running a small business. Prior to assuming my current position, I had been sole owner of our family farm's vegetable packing shed and had also taught economics at the University of North Carolina and the University of California at Davis. I was also fortunate to have had twelve years to devote principally to the early childhood development of my own two children.
I have been privileged to serve on several Boards of Directors while living in Kern County: the Vineland School District Board, the CASA of Kern County Board, the Tehachapi Resource Conservation District Board, and the Tehachapi Democratic Club's Board.
The organizations to which I've donated my time in the past reflect my lifelong commitment to the welfare and educational needs of children and to the environment that sustains them. I am hopeful I can assist Thomas Farms Films in their bold new venture that will nurture creativity for children in a wholesome family farm setting.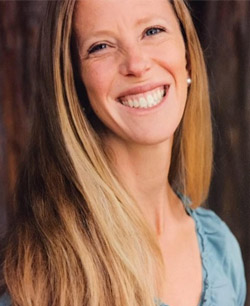 Susanne McGraw
Board Secretary
Inspired to contribute to meaningful educational reform, Susanne has worked as a Montessori educator for over twenty years. She has taught at the primary and elementary levels as a classroom teacher, has developed music programs for all levels, through middle school, and has worked as a school director. Montessori offers academically rigorous developmental curriculum for the whole child that incorporates environmental stewardship and peace education, which is the reform needed for the next generation. She is excited to extend that knowledge into the realm of film education with Thomas Farm Films. When she's not busy with her students, Susanne romps through fields, forests, and beaches with her husband and two young boys.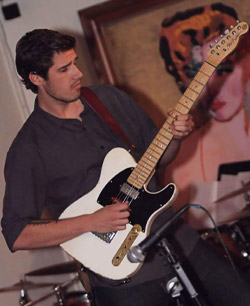 Travis Cruse
Board Member
Travis Cruse is a composer, multi instrumentalist and a music educator. Growing up in a musical family, Travis' passion for music was cultivated at any early age. His musical roots were eclectic and representative of his familial influences. From his father he learned the passion of the blues, the rebellious nature of rock'n'roll and the storytelling of country. From his grandfather he learned the language of jazz, and from his grandmother he learned the complexity and tradition of classical. Ultimately, it was the music from film that united all the musical facets of his upbringing and allowed what he sought after: to tell a story through music.
After spending his high school years supplementing his musical education at Cabrillo College, where he performed in several jazz ensembles, Travis went on to The Academy of Art University in San Francisco where he received his Bachelors of Music in Music Composition for Film. He has since performed on and produced dozens of albums as a studio musician, written music for television and short films, and continues to share his love of music with the next generation through teaching.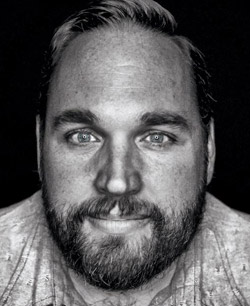 Justin Hambly
Board Member
Justin Hambly has been passionate about music and movies since early childhood, when his toy record player and movie camera were his favorite playthings. He has been an avid and mostly self-taught musician since the age of eleven, and he studied Film Criticism and Theory at California State University, Northridge. He continues to write and perform music with his band and as a solo act, often participating in charitable events around Santa Cruz County. Justin has also run his own small business, an insurance agency, in Aptos since 2005. He enjoys helping people and is happy to be in a position to create jobs in the local community. Justin has been a longtime sponsor of the Cabrillo College Distinguished Artists Concert and Lecture Series and The Santa Cruz Chorale.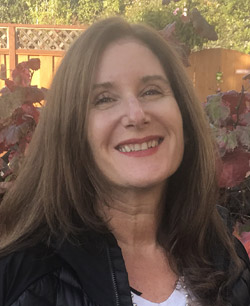 Alicia Steinhardt
Board Member
Alicia has an extensive background in education. Starting as a camp counselor and swim instructor at age 13, Alicia went on to teach Biology in the California Community College system, where she still is employed. Alicia spent 8 years managing and administrating grants, and running special programs at Hartnell College in Salinas, where she gained experience managing curriculum, employees, budgets, and student enrollment. Additionally, Alicia is the proud mother of 3. She has spent 6 years volunteering in theater programs such as Kids on Broadway, and Santa Catalina School. With a special fondness for ushering, ticket sales, and concessions. Alicia looks forward to continuing her support of the arts at Thomas Farm Films.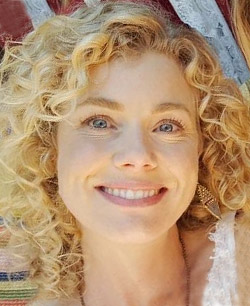 Erin Perry
Board Member
Since I was a kid, my favorite game was to dress up in a costume. I would invent a character and then to complete the look, I would do the appropriate makeup and hair. This continued with friends and siblings and then when we were given the opportunity to use a video camera, these films would become school assignments which would would win us stellar feedback from our teachers and friends. Today I am the co-owner of Feather Salon and have been doing hair and makeup professionally for over 20 years. I have worked on fashion shows, movies, photo shoots and many weddings as well as continuing my passion to completely transform myself and my friends into new characters every Halloween. As the mother of two small boys Halloween has been extremely fun and creative. I absolutely love costuming and I love working with people. I'm so fortunate to be able to work with other creative professionals to bring forth this amazing opportunity for children who are also interested in film and all the aspects that it presents.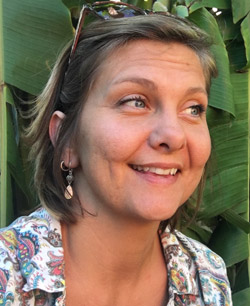 Penny S. Leonard
Board Member
Penny S. Leonard has been working in community banking since 2000, taking a break to raise her 3 kids. She has recently rejoined Santa Cruz County Bank as a Compliance & Risk Management Associate. She actively volunteers in the community and has been the Pledge Drive Chair for DeLaveaga Elementary School for the past 4 years, but has stepped down to focus on her career and family. Penny is passionate about family and community. Her interests also include art, gardening, camping, food, waves, & dogs. She is excited to watch kiddos get creative on the farm, making movies!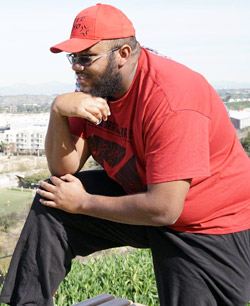 Avery Christmas
Film Instructor

Avery Christmas is a filmmaker California made and raised. Born in San Diego and raised through various parts of the golden state Avery Christmas was inspired by the vast and diverse artistic medium of filmmaking, and was compelled to tell his own stories and share his unique vision on fellow fans of the artistic medium. He got his start when he attended CSU-Monterey Bay's highly acclaimed Cinematic Arts and Technology program to earn his B.A. and develop his filmmaking skills. Skills nurtured and grown by fellow talented cohorts and award winning professors who each of them carved their own paths in the film industry. Avery Christmas has gone on to screen his films at multiple film festivals, the Monterey Museum of Art, the Smithsonian, and was even honored by Congress for his contribution to the Veteran's History Project. Avery Christmas has also worked freelance in commercial, television, new media, shorts, and feature works. Currently he is a resident of Los Angeles, CA earning his MFA in Film and Television Production at Loyola Marymount University, and freelancing when he is not hitting the books.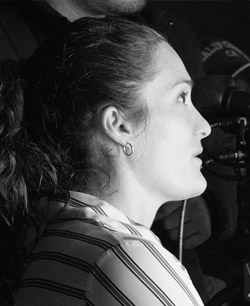 Casey Beck
Film Instructor
Casey Beck is currently completing her MFA in Cinema at San Francisco State University and teaching documentary production at California State University East Bay. In 2018, she won a Fledgling Fund Rapid Story Development grant to direct Downstream, a short documentary about water contamination in Iowa for the website Yale E360. Her short documentary Shades, a film about technology and identity, recently premiered at Cinequest 2019. She premiered her debut feature documentary The Organic Life to sold-out crowds at the 2013 Mill Valley Film Festival. The film went on to win Best Documentary at the Santa Cruz Film Festival, achieve national broadcast on Pivot (formerly of the Documentary Channel), and is now available on iTunes and other VOD platforms.