Summer Camps
Sign Up Now For Early Discount!
"Thomas Farm Films is a creative and unique experience for your child to learn positive self esteem. Encouragement and a healthy environment make for confidence building in this safe and fun workshop. I know these children are headed for greatness! Thanks Kari and Josh!"
NOTE: Due To The COVID-19 Situation All Classes Are Cancelled This Summer.
Thomas Farm Films will be launching this summer with 8 weeks of filmmaking camps for ages 5 to 18. Each week-long camp will result in a finished short film to be screened in the Thomas Farm Films Summer Films Festival.
Each group of 10 student filmmakers will be guided by 1 Filmmaking Instructor and Production Assistants. Our staff is background checked and First-Aid/CPR Certified. Camps take place on a 35 acre organic farm in Aptos.
Camp Cost
Camp cost is $600 per week.
*Optional payment plan is available: $100 non refundable deposit due at registration to hold your spot. 1/2 of the remaining balance due by April 1st. Remaining balance due by June 1st.
*Scholarships are available! Easy online application through our website by clicking the "scholarships" button at the top ofthe page. Register NOW to get your spot.
*Discount of 20% off your total registration if more than one child is attending or if your are registering for more than one week of camp..
Camp Days & Hours
Each week of summer camp is 5 days. Monday through Friday. Camp "production" starts at 10:00am sharp! Camp ends at 4:00pm. Optional early drop off begins at 8:00am and optional late pick up 'til 5:00pm. NO EXTRA CHARGE.
Thomas Farm Films Apparel
Youth T-shirt included with camp tuition. We have additional T-shirts and Trucker hats in youth and adult sizes available for $20/each. We have hoodies for $45/each.
Location of all camps
Thomas Family Farm
770 Del Valle Road
Aptos, CA 95003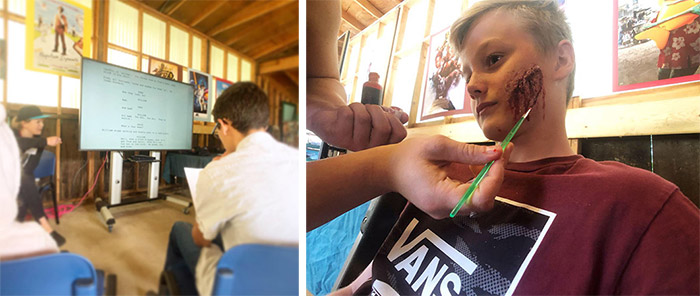 Save The Date!
Summer 2020
8 weeks of filmmaking!
NOTE: Due To The COVID-19 Situation All Classes Are Cancelled This Summer.
Week 1: June 15 through June 19
Week 2: June 22 through June 26
Week 3: June 29 through July 3
Week 4: July 6 through July 10
Week 5: July 13 through July 17
Week 6: July 20 through July 24
Week 7: July 27 through July 31
Week 8: August 3 through August 7