"The Thomas Farm Films camp was an incredible experience for our boys! They both attended an arts school for elementary and had the opportunity to participate in theater productions every year, and are both talented actors. As they are growing up, they are less interested in theater due to the "coolness" perception of pre-teens. This film camp was the perfect bridge to help continue their acting careers. They had a blast and were exposed to all aspects of professional film production, including original scripts, make-up, costuming, location scouting, shooting, editing and a wonderful showing of their movie on a big screen. There was even a "red carpet" event on the showing night. It was a blast and we plan on sending the boys again! Thank you Thomas Farm Films!"
Summer 2020 Online Filmmaking Classes & Workshops
Classes to be offered:
Filmmaking bootcamp — complete a short film!
Screenwriting
Editing
Stop motion animation
All proceeds (after costs) from our online summer program will be donated to one or more organization ss in support of the Black Lives Matter movement and other organizations dedicated to fighting for equal rights & tolerance.
We have limited scholarships available for families in need.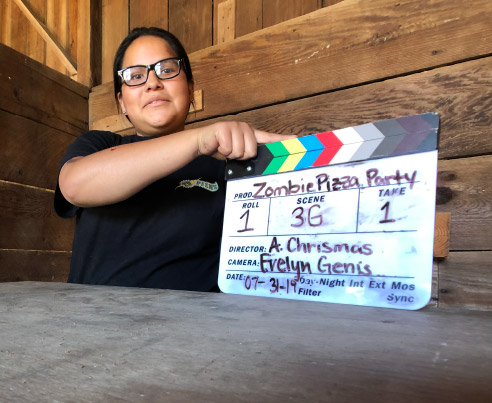 Class Schedule
Dates (Session)
Days
Time
Teacher
Class Title
Ages
Cost
Bootcamp Session #2
July 20th- July 24th
Mon-Fri
10 – 11:30 am
Asali
Filmmakers Boot Camp!
12 and under
$175
Bootcamp Session #2
July 20th- July 24th
Mon-Fri
10 – 11:30 am
Avery
Filmmakers Boot Camp!
13 to 17
$175
Class Session #1
July 6th – July 17th
Monday & Wednesday
1 – 2:30pm
Asali
Stop Motion Animation
All Ages
$150
Class Session #1
July 6th – July 17th
Friday
1 – 2pm
Avery
Video Editing
12 and under
$50
Class Session #1
July 6th – July 17th
Friday
2 – 3pm
Avery
Video Editing
13 to 17
$50
Class Session #1
July 6th – July 17th
Monday & Wednesday
3 – 4:30pm
Avery
Hand drawn Animation
12 to 17
$150
Instructor Asali's Class Descriptions & Requirements